What is Cooking for Kids?
By offering a multifaceted approach to culinary training and professional development, COOKING for KIDS works to create a network of empowered child nutrition professionals who are passionate about their role in nourishing the next generation. Our program offers a variety of opportunities to school districts and CACFP providers, including:
In-Person Training

Chef Consultations

Online resources
Additionally, we provide recipes and other resources to teachers and parents so they can teach their children the importance of balanced nutrition.
COOKING for KIDS is a comprehensive, hands-on culinary training program, made possible through funding provided by the Oklahoma State Department of Education Child Nutrition. Our primary goal is to empower child nutrition professionals with the knowledge and expertise needed to create nutritious and delicious meals for students. Through this initiative, we strive to support school food authorities in their commitment to enhance the quality of school meals and contribute to the overall health and academic success of students.
COOKING for KIDS aims to change the landscape of child nutrition through chef-led culinary training for child nutrition professionals resulting in:
Greater availability of freshly prepared foods.
Increased student participation in school meals.
Expanded professional development opportunities for child nutrition professionals.
Low- to No-Cost Culinary Training
We give child nutrition professionals the opportunity to cultivate their culinary skills with help from trained chefs.
Healthy Lunches on a Budget
We know you're limited by budget – that's why we help you find ways to feed your kids great food without breaking the bank.
Less Plate Waste
We teach you how to prepare food that delivers the nutrition kids need in a way they find appetizing.
Student Buy-In
We help you develop a marketing plan for your menu. Get kids on board with foods they're unfamiliar with through tastings and social media pages.
Here for You
We teach you how to prepare food that delivers the nutrition kids need in a way they find appetizing.
We would like to thank our partners for their enthusiasm and willingness to participate, as well as our team members for their dedication.
Meet the people who help make it possible.
Deana Hildebrand
Project Director
Taylor Peabody
Project Evaluator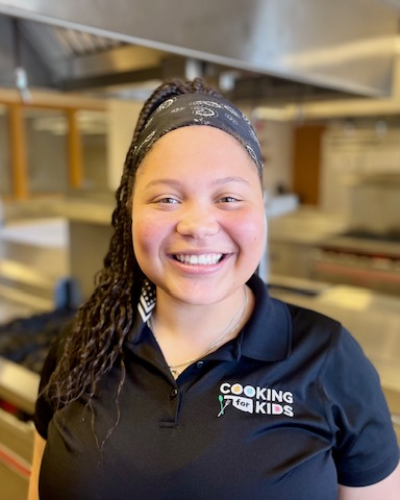 Melina Rooks
Graduate Research Assistant

Our chefs are here to help you with hands-on training in the kitchen. They're not just trained culinary experts – they're passionate about helping kids throughout Oklahoma eat right. You can request a chef consultation here.